A mobile notary is a notary public who is able to travel to different locations to notarize documents. In most states, a notary public is an official appointed by the government to serve as an unbiased witness to the signing of important documents. Mobile notaries are able to bring the services of a notary public to the convenience of the customer, rather than requiring the customer to travel to a specific location.
Mobile notaries are often used in situations where a person is unable to physically go to a notary's office, such as when they are in a hospital, nursing home, or prison, or when they live in a remote location. Mobile notaries can also be useful in emergency situations or when a document needs to be notarized on short notice.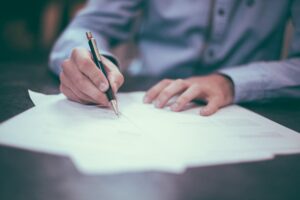 To become a mobile notary, an individual must first become a notary public in their state of residence. This typically involves completing a notary training course, passing a background check, and obtaining a bond or insurance. Mobile notaries may also need to purchase a seal or stamp to use when notarizing documents.
If you need to have a document notarized and are unable to go to a notary's office, you can search online directories or local classifieds for mobile notaries in your area. You may also be able to find a mobile notary through a professional organization such as the National Notary Association (NNA) or the American Association of Notaries (AAN).
Happy Valley Notary is your choice for mobile notarizations here in Salt Lake City and the surrounding areas. We travel as north as Ogden, west as Tooele, east as Heber and south to Provo. Give us a call today. (801) 441-2528